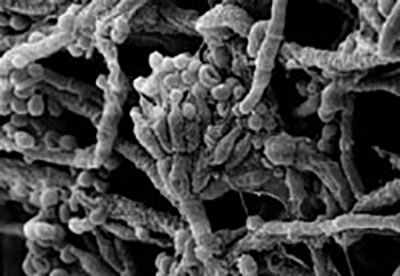 There are over 100,000 molds and some may create health issues. Mold is one type of fungus; other types of fungi are mushroom and mildew. Molds are microorganisms that grow as filamental structures and reproduce by creating spores. If the living mold is killed or dies, the spores still survive, and may be a threat until removed or encapsulated. Their food is material such as leaves, wood, paper cellulose; in other words, material your home is made of!
There are three categories of mold:
1. Allergenic, such as Aspergillus, which may affect people who have allergies or asthma.
2. Pathogenic, such as Stachybotrys and Aspergillus, which can cause serious health effects, particularly infants, the elderly, and those who have compromised immune systems.
3. Toxigenic, such as Stachybotrys, which can cause serious health effects in almost anybody.
Things to look for which may indicate the possibility of mold are:
1. Visible growth on surfaces.
2. Smell (can be a musty smell).
3. Evidence of water leakage, now or previously.
There are many places that mold can grow in a home. Thus to determine if your house has molds to be concerned with requires taking samples which are sent to a lab for evaluation. Air sample tests should be conducted in all homes (air samples give concentration of spores, but swab tests are needed to determine exact type). If evidence of mold or water leakage is seen, surface samples are needed to determine what type is present.
Conditions which promote mold growth include:
1. Relative humidity over 50% (it is critical to dehumidify).
2. Standing water, flooding (even if only occasionally).
3. Water penetration into or leakage within a basement or crawl space.
4. Limited ventilation (basements, closets, items stored against the wall; any place air flow is restricted).
5. Appliances not vented outside, particularly dryers and bath vents.
IF ANY OF THESE CONDITIONS EXIST, IT IS LIKELY THAT MOLD IS GROWING IN YOUR HOME. SOME TYPES OF MOLD MAY CAUSE SERIOUS HEALTH PROBLEMS.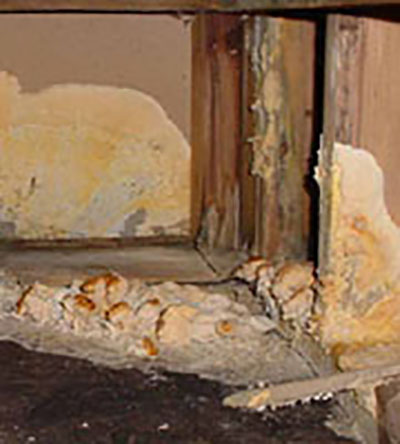 Health Effects
Exposure to mold is not healthy for anyone, but the following individuals are at a higher risk of adverse health effects: children, elderly, immune compromised patients, pregnant women, and individuals with existing respiratory conditions. Typically exposure occurs by inhaling airborne whether the mold is alive or dead. If the mold is disturbed, very high concentrations can become airborne. Physical contact with the mold can also cause serious reactions.
Protection… Testing is your first line of defense!
To determine if mold is a problem, your home must be tested. Air tests would be conducted in the home, where mold is likely, and outside. Testing outside is needed to see what the "background" level of mold is in your area. Comparing the outside amount to the inside will help determine if mold is growing in the house. If the level of house mold in the air is 10 to 70% of the outside level, it indicates mold is probably not growing excessively within the home. House carpeting should be tested and any visible mold should be sampled as well.
Stachybotrys Chartarum (atra), "The greatest concern"
Stachybotrys Chartarum (atra) is a greenish-black toxic mold that colonizes particularly well in high-cellulose materials, such as straw, drywall, carpet, wallpaper, fiberboard, ceiling tiles, etc. Before it dies, it is wet and slightly slimy. Stacchybotrys produces a mycotoxin that causes human mycotoxicosis. This type of mold is thought to be a possible cause of the "sick building syndrome". Stachybotrys spores are thought to cause pulmonary hemosiderosis (bleeding of the lungs), especially in children.
The following is a list of symptoms associated with exposure to Stachybotrys mold spor:
  1. Respiratory problems, such as wheezing and difficulty breathing
  2. Nasal and sinus congestion
  3. Eyes-burning, watery, reddened, blurry vision, light sensitivity
  4. Dry, hacking cough
  5. Sore throat
  6. Nose and throat irritation
  7. Shortness of breath
  8. Chronic fatigue
  9. Skin irritation (especially after physical contact with mold)
10. Central nervous system problems (constant headaches, memory problems, and mood changes)
11. Aches and pains
12. Fever
13. Diarrhea
14. Hemosiderosis
15. Immune suppression (the longer the exposure, the greater the suppression)
Interpreting Results of Mold Air Test
Testing is the key. Remember, mold is everywhere. The concern is if mold concentration levels are elevated inside your home. If the mold concentration level inside is less than 70% of the mold concentration level outside, then there probably is not excessive mold growth in the house. Mold can be removed from the home and the elevated moisture levels which promoted the mold growth can be corrected. However, if the moisture levels are not corrected, the mold will likely grow back.
MOLD CAN BE REMOVED FROM THE HOUSE, DEPENDING ON THE TYPE, LOCATION, ETC. IT IS NOT INEXPENSIVE. OBTAIN QUOTES FROM QUALIFIED CONTRACTORS AND CONDUCT FOLLOW-UP TESTING.